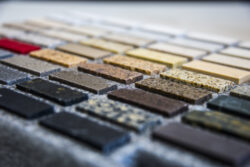 When it comes to choosing the right countertops for your kitchen or bathroom, there are numerous options to consider. Different materials offer varying features, aesthetics, and durability. To help you make an informed decision, we've compiled a list of countertop materials you should consider. Read on to discover the pros and cons of each option and find the perfect fit for your home.
1. Granite:
Granite countertops remain a popular choice due to their natural beauty and durability. With a wide range of colors and patterns to choose from, granite adds elegance to any space. It is heat-resistant, scratch-resistant, and stands up well to regular wear and tear. However, granite requires periodic sealing to maintain its appearance and prevent stains.
2. Quartz:
Quartz countertops, also known as engineered stone, offer the beauty of natural stone but with enhanced durability and low maintenance. Made from crushed quartz and resin, they are non-porous, resistant to stains, and do not require sealing. Quartz countertops are available in a wide array of colors and patterns, making them a versatile option for any style of kitchen or bathroom.
3. Marble:
Marble countertops exude luxury and sophistication, with their classic veining and timeless appeal. They are heat-resistant and provide an excellent surface for baking. However, marble is a porous material and can be susceptible to staining and scratching. Regular sealing and maintenance are necessary to preserve its beauty.
4. Solid Surface:
Solid surface countertops, such as Corian, are made from a mixture of acrylic or polyester resins and natural minerals. This material is durable, non-porous, and easy to clean. Solid surface countertops come in a wide range of colors and styles, offering endless design possibilities. They are also seamless and can be easily repaired if scratched or damaged.
5. Laminate:
Laminate countertops have come a long way in terms of both aesthetics and durability. With an extensive range of patterns and colors, they can mimic the look of natural stone or wood at a more affordable price. Laminate is resistant to stains, easy to clean, and relatively low maintenance. However, it is susceptible to scratches and can be damaged by heat, so caution must be taken with hot pots and pans.
6. Butcher Block:
Butcher block countertops are a great option for those seeking a warm, rustic look in their kitchen. Made from strips of hardwood, such as maple or oak, butcher block countertops add warmth and character to any space. They are durable and can be sanded and refinished when necessary. However, they require regular oiling to prevent drying and cracking, and they are not heat-resistant.
7. Concrete:
Concrete countertops offer a unique and modern aesthetic. They can be customized to fit any size or shape, and a variety of textures and stains can be applied for a personalized look. Concrete provides excellent durability and heat resistance. However, it is prone to staining and requires regular sealing to prevent water damage.
8. Stainless Steel:
Stainless steel countertops are a favorite choice for commercial kitchens due to their durability and hygienic properties. They provide a sleek and modern look that complements contemporary designs. Stainless steel countertops are resistant to heat, stains, and bacteria. However, they can scratch easily and show fingerprints, requiring regular cleaning to maintain their appearance.
Conclusion:
Choosing the right countertops for your kitchen or bathroom requires careful consideration of your style preferences, budget, and lifestyle. Whether you opt for the natural beauty of granite or marble, the durability of quartz or solid surface, or the affordability of laminate or butcher block, there's a countertop material that will suit your needs. Evaluate the pros and cons of each option to make an informed decision and create a stunning and functional space in your home.
Got Questions? Let Us Help!
Welcome to the RockAway Company! Since 1993, we have provided Forth Worth with quality home remodel and renovation service. As a family-owned and -operated business, we take pride in the quality of our workmanship as well as in our excellent customer service experience. At the RockAway Company, we keep customer satisfaction our top priority. We offer a wide range of home renovation services ranging from painting to complete second story additions. With over 15 years of experience, you can rest assured you and your property are in the right hands. Contact us today to schedule an estimate. We look forward to hearing from you!
Categorised in: Countertops